About Walkie Talkie Phones – Pros & Cons, Overview And More
In PC World, 1 year ago
3 min

read
314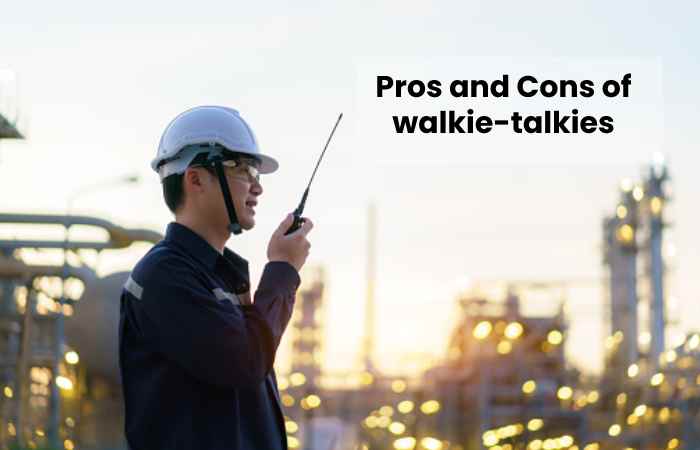 Walkie Talkie Phones
The Walkie-Talkie phone is a small portable radio device that sends and receives audio messages. This device provides direct communication, considered the easy and efficient way of contact that doesn't evolve ringing and connecting.
Walkie-Talkie is a very affordable mode of communication. The walkie-talkie device is convenient for communication within short distances. It is widely adopted by various security agencies, defense, military, and police. An increase in the adoption of walkie-talkies in multiple sectors is the primary factor for the growth of walkie talkie market.
Walkie-talkie phones are used as toys for children and mobile phones for youngsters. Therefore surge in demand for walkie-talkie devices in the children's entertainment sector is the other factor increasing the growth of the walkie-talkie market.
Pros and Cons of walkie-talkies
 Pros:
Walkie-talkie devices are easy-to-use and simple with relatively few features.
Their cellphone network coverage is poor or unavailable such as in disasters or emergencies.
They're convenient in situations where many people have to listen to the one, for example, if you're giving instructions to workers on a campsite.
They're highly convenient, weighing just 100–200g, work over a decent range, typically 5–10 square km, and have a long battery life of about 20 hours on 3–4 rechargeable or alkaline batteries.
Walkie-talkies generally have multiple channels. So you can easily switch to a different frequency if other people are also using walkie-talkies nearby.
Cons:
Many walkie-talkies are analog units, so they're subject to interference and will be relatively easy to eavesdrop on. But military walkie-talkies use encryption to overcome eavesdropping.
The walkie-talkies are not designed for long-distance communication. (for which you'll need a CB radio or a mobile phone).
The drawback of FRS frequencies is, that they are shared with GMRS (General Mobile Radio Service). This more formalized two-way radio service uses higher-powered transmitters, so it's possible to pick up interference from other people's transmissions.
Walkie Talkie Market Overview
The offline segment also contributes to the highest market share and also in global walkie-talkie marketing. B2B sales channels offer heavy discounts on bulk purchases of Walkie-Talkie sales across the globe, contributing to the growth of the Walkie-Talkie market. The online segment will likely be the fastest-growing sales in the coming years. Increasing demand for in-store communication and adopting hands-free walkie-talkies have increased the market.
Microsoft Teams gained immense popularity during the pandemic as it has become an efficient platform for many workplaces and facilitated ease of online operations. Microsoft has added a walkie-talkie feature to Teams to take advantage of the platform's popularity. This attempt is to rope in frontline workers and expand the user base for Microsoft Teams.
With robust technology giants making efforts to increase the efficiency and adaptability of walkie-talkie devices, the demand will increase considerably over the coming years.
Conclusion
Basically, walkie-talkies are one of the best communication devices. The Global walkie-talkie market research 2018 explains the detailed analyses of its future growth and prospects of it. Digital Walkie-talkie covered over 57.32 % of the market share in 2016.
Also Read – Email Marketing
Related posts