Merchant And Trade – Rooftop Bar in Charlotte NC
In PC World, 1 year ago
7 min

read
268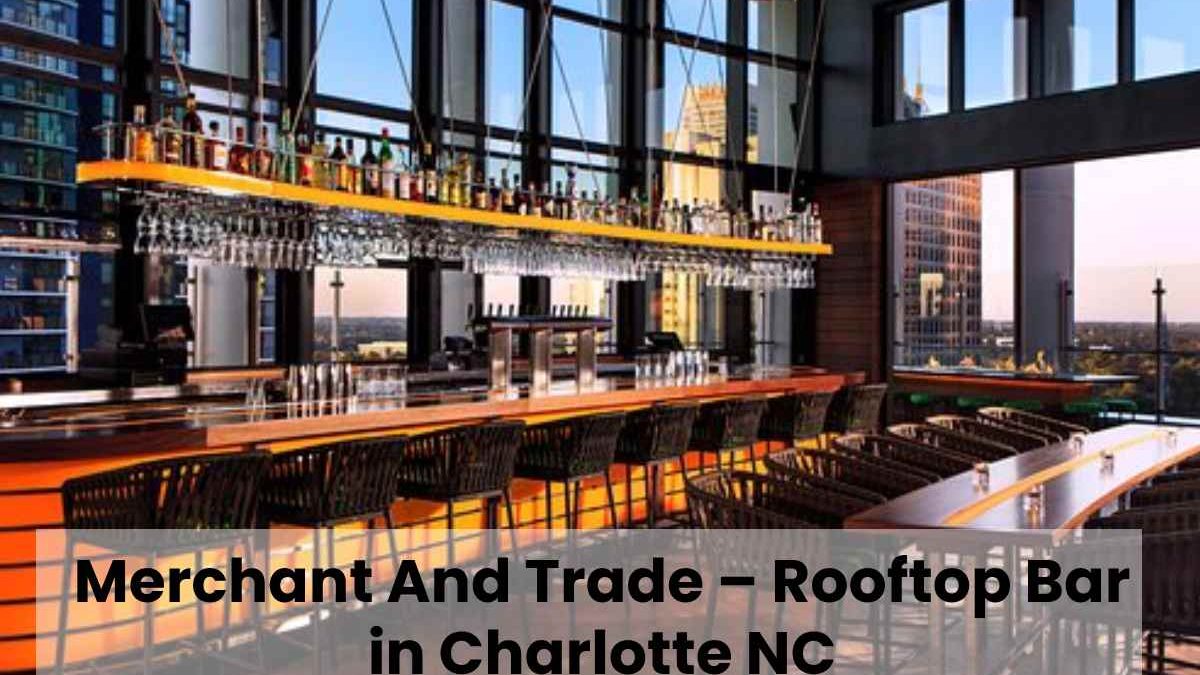 Merchant And Trade
On the 19th floor, with dramatic interpretations of Uptown Charlotte, Merchant & Trade is broken into four distinct zones – indoor bar, outdoor terrace, private terrace and the lawn. The carefully curated cocktail program is grounded in classic cocktails made with North Carolina-produced spirits, house-made mixers and locally sourced produce paired with elevated bar bites from their dedicated rooftop kitchen. Pop in with friends for shareable libations or try the wealth of craft beers on tap brewed here in Charlotte.
High above Uptown Charlotte, the rooftop lounge is a vibrant retreat of sleek and modern furnishings, lush foliage and soft lighting beckoning visitors and locals. Their custom-designed playlists, expertly crafted cocktails, and delicious bar snacks create a relaxed and welcoming vibe, while the covered terrace lets you enjoy the views regardless of the weather.
How To Contact Merchant And Trade
Service options: Dine-in · Drive-through · No delivery
Located in: Kimpton Tryon Park Hotel
Address: 303 S Church St, Charlotte, NC 28202, United States
Hours: Wednesday: 5 pm–12 am
Thursday:5pm–12 am
Friday: 5 pm–12 am
Saturday: 5pm–12am
Sunday: 5 pm–12 am
Monday: Closed
Tuesday: 5 pm–12 am
Kitchen: Wednesday: 4:30–10 pm
Thursday: 4:30–10 pm
Friday: 4:30–11pm
Saturday: 4:30–11pm
Sunday: Closed
Monday: 4:30–10pm
Tuesday: 4:30–10 pm
Menu: places.singleplatform.com
Phone: +1 704-445-2550
Menu Of Merchant And Trade
Inspired by their local bounty in the South and designed for social snacking, the menu at Merchant + Trade focuses on elevated bar bites, including ceviche and crab buns. Behind the bar, you'll find spirit-driven cocktails, a selection of North Carolina-brewed beers, sought-after wines, and bubbly.
Seasonal Cocktails
Spill The Tea: $15.00 – belvedere pure vodka, earl grey tea, fresh grapefruit, lemon, raspberries, and Chandon brut. (Also accessible in large format for 8-12 people).
White Rabbit: $16.00 – malfy citron gin, Aperol, guava nectar, citrus, orange blossom water, coconut gel
Purple Haze: $16.00 – empress 1908 gin, fresh grapefruit, coconut cream, citrus, butterfly pea tea
Pink Slip: $16.00 – Ketel one vodka, ashwagandha, tangerine, hibiscus, rosehip, fresh lemon, Peychaud's bitters, prosecco
Peach on Earth: $16.00 – Casamigos reposado, st Germaine, white peach nectar, agave, citrus, Peychaud's bitters
The Sidney Fife Smash: $16.00 – monkey shoulder, grand Marnier, raspberry, citrus powder, mint
Sleepwalkin': $15.00 – bumbu Barbados rum, blueberry, lavender, chamomile, fresh lemon
House Favorites
Royal Pines: $15.00 – Bombay sapphire gin, Bianco vermouth, pineapple, lemon, rosemary
The Redeemer: $16.00 – Leblon cachaca, passionfruit, habanero, Tasmanian pepper berry, fresh lime
Gap In The Clouds: $15.00 – Tito's vodka, fresh lemon, earl grey tea, vanilla bean, cold pressed lemon oil, orange blossom infused aquafaba
Wine & Spirit List
Also, Cakebread, Napa Valley, CA: $135.00
Also, Chalk Hill, Russian River Valley, Sonoma, CA: $56.00
Davis Bynum, Rrv, Sonoma County, CA: $52.00
Also, Far Niente, Oakville, Napa Valley, CA: $147.00
Hahn, Slh, Santa Lucia Highlands, Monterey, CA: $56.00
Also, Schweiger, Spring Mountain, Napa, CA: $104.00
Dress To Impress – Merchant And Trade
Although, To maintain the upscale experience at Merchant & Trade, flip-flops, baseball caps, tank tops, sports apparel, sweatshirts, work or hiking boots and ripped clothing are not allowed. Also, However, high-end, clean sneakers are permitted, complemented by appropriate attire.
During Bank of America Stadium sporting events, the participating teams branded jerseys are permitted. The dress code remains still upheld on concert nights and other sporting events. Also, Guests must stay 21 years of age or older. Seating is first come, first served.
About Merchant
A merchant is an individual who trades in merchandise produced by other people, especially one who changes with foreign republics. Also, Historically, a merchant is anyone who is involved in business or trade. Merchants have functioned for as long as industry, commerce, and trade have existed.
In 16th-century Europe, two different terms for merchants emerged: messengers referred to local traders (such as bakers and grocers). And Koopman mentioned merchants who operated on a global stage, importing and exporting goods over vast distances and offering added-value services such as credit and finance.
Although, The merchant's status has varied throughout history and among other societies. Also, However, in modern times, the term merchant has occasionally been used to refer to a businessperson or someone undertaking activities (commercial or industrial) to generate profit, cash flow, sales, and revenue using a combination of human, financial, intellectual and physical capital to fuel economic development and growth.
Reviews Of Merchant And Trade
First impression?
Although, The ultra-chic Merchant & Trade, up on the 19th level of the Kimpton Tryon Park Hotel in fashionable Charlotte, is as visually stunning inside as it is outside. Also, Step off the elevator, and floor-to-ceiling windows and an eye-catching bar greet you; Also, venture out, and the panoramic view of the city makes the drinks' high price tag worth it.
Who's there?
Although, It is a refined crowd of Uptown execs and those without awareness splurging on an expensive cocktail. Also, If everybody's wearing nice clothes, they are; after all, the bar has a fairly strict dress code.
How are the drinks?
Of course, you can order the classics, but give the unique house cocktails a try. Also, The Velvet Slipper features Tito's vodka, blueberry bush syrup, lemon juice, and Domaine de Canton ginger liqueur. Luxardo Maraschino Liqueur then hibiscus saline; Also, the Blushing Belle remains made with gin, lemon juice, lavender syrup, raspberry syrup, cherry bark, vanilla bitters, and white egg foam.
Conclusion
Although, it's undeniably expensive, Merchant & Trade can morph into whatever you need. So, for post-work cocktails with coworkers, grab a couch. Also, Professional, attentive servers aim to make a smooth experience from start to finish.
Related Searches:
[merchant and trade]
[merchant and trade charlotte]
[merchant and trade new years]
[merchant and trade menu]
[merchant and trade 4th of July]
[merchant and trade photos]
[merchant and trade dress code]
[merchant and trade new year's eve]
[merchant and trade Tryon park]
[merchant and trade restaurant charlotte]
[merchant and trade dress code charlotte]
[merchant and trade new years eve]
[restaurants near merchant and trade]
[merchant and trade restaurant]
[blake gryphon at merchant and transaction]
[merchant and trade in clt]
[merchant and trade reviews]
[merchant and trade rooftop bar]
[charlotte NC merchant and trade]
[merchant and trade jobs]
[merchant and trade "application"]
[merchant and trade drink menu]
[merchant and trade bank log on]
[merchant and trade brunch]
[merchant and trade full food menu]
[merchant and trade facebook]
[blossom merchant and trade]
[tryon park merchant and trade]
[similarities and differences between Christian and Islamic attitudes to merchant and trade]
[merchant and trade age]
[merchant and trade reservation]
[blake gryphon at merchant and trade charlotte]
[merchant and trade hiring]
[merchant and trade igloo]
[merchant and trade activities for 5th grade]
[merchant and trade rooftop]
[merchant and trade restaurant charlotte nc]
[merchant and trade application]
[opentable merchant and trade]
[merchant and trade charlotte]
[kimpton merchant and trade]
[merchant and trade charlotte nc]
[merchant and trade hours]
[merchant and trade hours Monday]
[merchant and trade Instagram]
[merchant and trade reservations]
[the "companies", merchant and trade]
[merchant and trade logo]
[merchant and trade parking]
[good morning Vietnam quotes merchant and transaction]
[merchant and trade bar charlotte nc]
[ancient Greece merchant and trade]
[merchant and trade hotel]
[merchant and trade, charlotte, nc]
[skyrim merchant and trade mods]
[merchant and trade north Carolina]
[sip drink price vs merchant and trade]
[dress code merchant and trade]
[merchant and trade in anime]
[Mashable]
[Youtube]
[wikipedia.org]
[microsoftonline.com]
[netflix.com]
[HuffPost – Breaking News, U.S. and World News | HuffPost]
[facebook]
[huffpost.com]
[Mashable – Home – Facebook]
[whatsapp web]
[techcrunch.com]
[cheezburger.com]
[Mashable – Wikipedia]
[mashable.com]
[google]
[gmail]
[translate]
[google maps]
[gawker.com]
[weather tomorrow]
[restaurants]
[yahoo mail]
[yahoo]
[satta king]
[twitter]
[whatsapp]
[sarkari result]
[погода ]
[xổ số miền bắc]
[tradutor]
[roblox]
[hotels]
[traduto]
[speed test]
[outlook]
[Walmart]
[tiempo mañana]
[huffpost.com]
[HuffPost – Breaking News, U.S. and World News | HuffPost]
[HuffPost (@HuffPost) · Twitter https://twitter.com/HuffPost]
[Huffington Post – HuffPost]
[gawker.com]
[Gawker – Wikipedia]
[Gawker – Twitter]
[Gawker – Definition, Meaning & Synonyms | Vocabulary.com]
Also read: Harry Potter Trading Cards
Related posts