iPhone Error 4013
In PC World, 1 year ago
4 min

read
288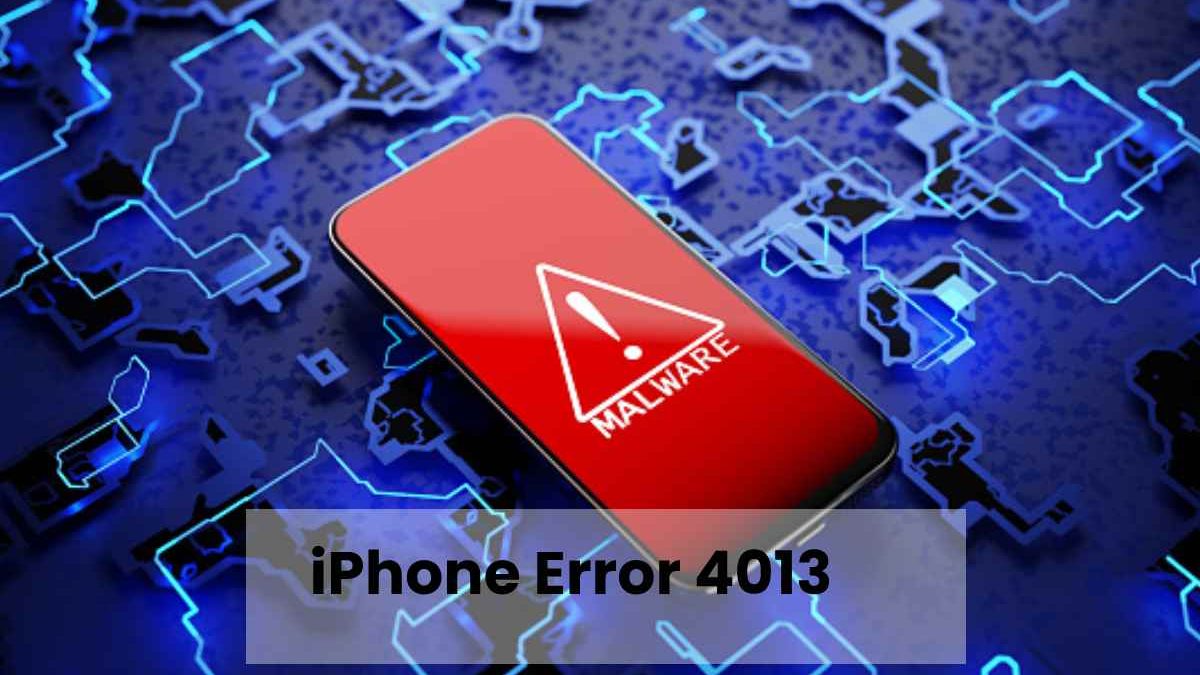 iPhone Error 4013
Apple is at the top of the technology business for a reason: they create fantastic goods that people continue to enjoy yearly. Whether a design improvement or new, inventive features, they're continually setting the standard for their competition to meet. However, Apple gadgets continue to have issues from time to time.
One of these is a problem while attempting to restore an iPhone. The procedure should be pretty straightforward, as all you need to do is connect your iPhone to a computer, and Apple will take care of the rest. However, for some, the prompt "The iPhone was unable to be restored. An unexpected error (4013) occurred."
Solution 1: Before You Begin, Consult Apple's Documentation.
If you encounter issue 4013 or error 4014 when restoring your iOS device, you should consult the official Apple support guide first. They will tell you exactly what they want you to attempt. If it doesn't work, you can start looking at other options.
Solution 2: Ensure That Your Wi-Fi Is Operational.
A weak Wi-Fi signal is one of the primary reasons for the problem. You may now either follow the Apple tutorial we discussed before, which includes a section concerning your Wi-Fi. Alternatively, if you have the know-how, you can just reset your Wi-Fi, which helps your internet restore a good connection.
Change The U2 Charging IC As A Third Option.
It is a far more involved endeavour that does need some understanding. If you're doing this, we recommend looking for a complete guide on YouTube so you can see precisely how to accomplish it.
If you are unsure whether you can manage this, don't do it in case you damage any components, but you may continue reading to learn other options.
Solution 4: Enter Recovery Mode On Your Device
You may also try this Recovery Mode method, which fixes various iOS problems.
1 Step: Hold the Home button and connect your iPhone to your computer via iTunes.
Step 2: Press and hold the Home button until you see the 'Connect to iTunes/computer' logo on your iPhone – it is now in Recovery Mode.
Step 3: Follow the instructions in iTunes to restore your iPhone. Remove the cord when you see the loading indicator on your iPhone screen.
Step 4: After around 10 seconds, reinsert the cable, and the restoration procedure should begin.
You may also need to know what to do if your iPhone refuses to enter Recovery Mode. If iTunes still displays an error code, there may be a problem with your iTunes; if iTunes is already the most recent version, attempt to discover and resolve iTunes issues.
Solution 5: Use A Professional Repair Tool To Resolve iPhone Restore Error 4013/4014
If you're still having trouble with the remedies suggested above, an excellent tool like iMyFone Fixppo can assist. It works by installing the most recent iOS (currently iOS 15 betas 3/2/1) on your iPhone and resolving the iPhone restore problem 4013/4014. You're probably wondering how to put it to use. Follow the instructions outlined below. Of course, you must first download and install the security software on your computer.
Step 1: Connect your iPhone to iMyFone Fixppo, which will provide you with three repair solutions for various iOS bugs. Because we understand that no one wants to lose data, you can select the Standard option.
Step 2 is simple: hold the sleep and home keys for 10 seconds. Hold the home button for around 5 seconds after releasing the sleep button. It should be in DFU mode now.
Step 3: Download the firmware for your iPhone (all you have to do is click 'Download'). Then, click 'Start to Repair,' and it will fix your iPhone.
Conclusion
What is the source of iPhone error 4013? In general, iPhone error 4013 happens when there is a problem during the upgrading or restoring procedure. You may have unintentionally unplugged your iPhone or iOS device during the upgrade process, or a software problem may be preventing the update from being successfully done.
Related Searches:
[iphone error 4013 solution]
[error 4013 iphone 11]
[iphone error 4013 free fix]
[iphone error 4013 youtube]
[the iphone could not be restored an unknown error occurred (9)]
[error 4013 iphone 5s]
[error 4013 ipad 7th generation]
Also read: Next Big Thing in Luxury Business
Related posts